Be Abreast of the Regulations for E-Liquids!
E-cigarette liquids are classed as chemicals. New health laws and the Tobacco Products Directive (TPD) means that manufacturers of e-cig juice / electronic cigarette liquid must include extra product information on their labels. The e-cig labels regulations include the need to display health warnings and more, and may well involve a tactile warning triangle (a raised area). Failure to comply with the regulations for e-liquids can be a serious offence.
As e-cig packaging is so small, this can be a real challenge for manufacturers. However as always, at CS Labels we have the perfect solution!
Let's look at the main requirements:
Each unit packet and any container pack must include a list of all set out in descending order by weight, nicotine content, delivery per dose, batch number, keep out of reach of children warning. Also manufacturers must print a health warning "This product contains nicotine which is a highly addictive substance" on both the front and back of the unit packet and any container pack. This must fill 30% of the area, calculated in relation to the area of the surface concerned when the pack is closed and must be in black Helvetica bold type on a white background. The font size must ensure that the text covers the greatest possible are of the surface area reserved for it and should be at the centre of that area.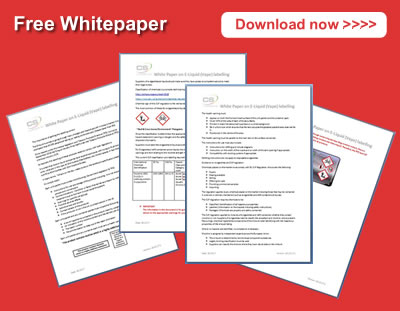 Download a white paper: Labelling Regulations for E-Liquids.
How can digital labelling help with e-cigarette printed labels?
At CS we can help you redesign your label artwork to comply with the regulations for e-liquids, whilst also maintaining the brand equity that your product has.
Digital labelling technology means there are no printing plates so any artwork changes, for now and both in the future, are quick and simple.
Our presses are also geared up to offer multiple sorts, even on the same print run, and this can also be the same label print run multiple label sizes using a clever method called varilane.
Peel and reveal labels are our forte and we were one of the first companies in the UK to be able to print them digitally. We offer impartial advice and our peel and reveal label production skills mean we're able to offer you a variety of options to suit your requirements – whether it's traditional peel and reveal labels or our innovative wrap-style peel label option.
We're also able to print tactile warning triangles using our brand new screen machine.
You can find some more info on the e-cig label regulations here. Finally the guidelines are currently under review and may change, so keep an eye on our blog for all of the updates, or feel free to contact us for up to date info at any time.
Request a quote for e-cigarette e-juice refill labels or call us on 01902 365840 / email sales@cslabels.co.uk